Back to All events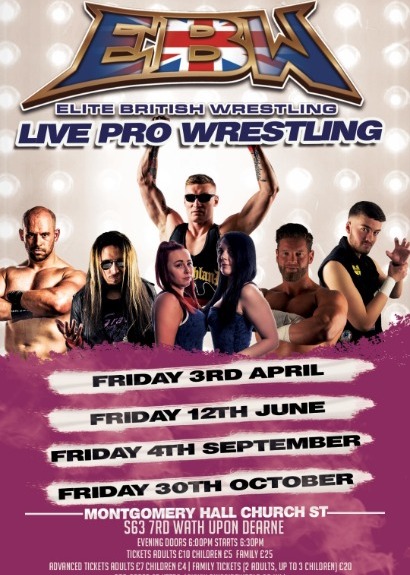 Event
EBW Presents Wrath Upon Dearne 2020
When / Where
4th September 2020
Doors open: 6:00pm
Montgomery Hall, Church Street, Wath upon Dearne, Rotherham, S63 7RD
Promoter reviews
Elite British Wrestling Presents Summertime Smash
"Hi There Me and my son have only been attending your events for for the last few months, and thoroughly enjoy every single one of them. Both the wrestlers and organisers are a credit to your company. Keep up the good work. "
Reviewed on 08/08/2016
EBW Presents The Eve Of War
"Huge fun for all the family, literally. And a great venue. EBW always put on a great show."
Reviewed on 02/12/2019
Elite British Wrestling Presents Wrath Upon Dearne 3
"A good show, all the wrestlers worked hard. The interaction with the fans was great. Massive thumbs up to Stixx for going over and chatting to a disabled guy who couldn't get in the ring for a photo. Could have done with some more merchandise for specific wrestlers. I had a good night, a bargain for the price of admission."
Reviewed on 30/08/2015
EBW Live in Woodseats
"EBW Live In Woodseats was a great show Ivy was a great heel in that she refused to defend her title and had Ruby Radley wrestle in her place while she was the special guest referee. The Battle Royal was a decent affair and I was shocked at Mad Dog winning and facing Krieg for the world title in the main event. I can't remember his name but the wrestler with the Cowboy gimmick was entertaining and he got really mad when I got a "You're not a real cowboy" chant started and want to see him booked more regularly for EBW. Overall, a great show and the only fault I have is Mikey Van Riot's losing streak and hope he gets a win soon."
Reviewed on 28/08/2018
EBW Presents Brawl In The Hall
"
Was a brilliant, light hearted evening. All the wrestlers were brilliant and welcoming to the children, which was lovely to see all the smiles and enjoyment had by all. Well done, great evening
"
Reviewed on 03/03/2019
EBW Presents Unlucky For Some
"We had a fab family time, great atmosphere, very entertaining and well done "
Reviewed on 15/04/2018