Back to All events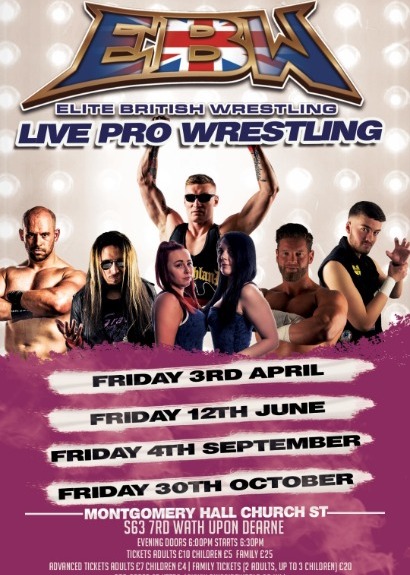 Event
EBW Presents Wrath Upon Dearne 2020
When / Where
4th September 2020
Doors open: 6:00pm
Montgomery Hall, Church Street, Wath upon Dearne, Rotherham, S63 7RD
Promoter reviews
EBW Presents Halloween Is For Heroes 2019
"
It was really entertaining, great value for money , great venue. The kids absolutely loved it the wrestlers were great getting the kids involved when they made their entrance etc. Even the merchandise was great value, but would have liked a bigger selection. Will definitely be bringing the family back and friends.
"
Reviewed on 13/10/2019
EBW Presents November Pain 2018
"Brilliant show!! Loved it!!"
Reviewed on 05/11/2018
EBW Presents Apocalypse Now 2020
"
Very good event. Gentlemen Jim needs more ring time! Very well played heel that can pull nuclear levels of heat with relative ease.
"
Reviewed on 12/02/2020
Elite British Wrestling Presents Apocalypse Now?
"There were lots of shocks and surprises and it was awesome! Wrestlers I didn't think would be there; matches I didn't think I would see. Real professionalism. Matches better than you'd see on WWE. From Craig Ogden (Wrestling superfan)"
Reviewed on 14/06/2017
EBW Live in Woodseats
"EBW Live In Woodseats was a great show Ivy was a great heel in that she refused to defend her title and had Ruby Radley wrestle in her place while she was the special guest referee. The Battle Royal was a decent affair and I was shocked at Mad Dog winning and facing Krieg for the world title in the main event. I can't remember his name but the wrestler with the Cowboy gimmick was entertaining and he got really mad when I got a "You're not a real cowboy" chant started and want to see him booked more regularly for EBW. Overall, a great show and the only fault I have is Mikey Van Riot's losing streak and hope he gets a win soon."
Reviewed on 28/08/2018
Elite British Wrestling Presents Apocalypse Now?
"As huge fans of wwe we weren't expecting anything close. But we were wrong. We attended the matinee and evening show and had a blast. The talent was brilliant and the whole show was very well put together and loved the funny bits. Can't wait for next one"
Reviewed on 12/06/2017