Back to All events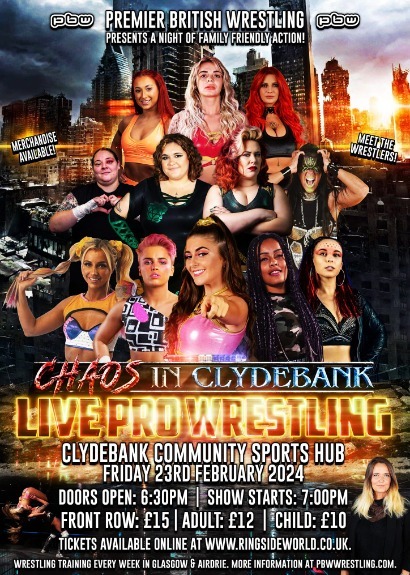 Event
PBW Presents Chaos In Clydebank
When / Where
23rd February 2024
Doors open: 6:30pm
Clydebank Community Sports Hub, 60 Dean Street, Clydebank, G81 1RL
Promoter reviews
PBW Presents Maximum Impact 2022
"The show was brilliant for both adults and kids lots of action. Great high risk spots, classic face vs heel match ups will definitely go again."
Reviewed on 30/10/2022
Premier British Wrestling Presents Breaking Limits 11
"Brill night !!! "
Reviewed on 02/05/2016
PBW Live In Greenock
"Took my 6 year old for the second year in a row... And same as first time he loved it... Big thanks to the wrestlers who took time to have pictures taken with the kids and sign posters... Definitely be going again next year"
Reviewed on 11/11/2019
Premier British Wrestling Live In Greenock
"Fab family night out"
Reviewed on 25/03/2019
PBW Live In Campbeltown
"This event was absolutely fantastic! My son and his friends loved it. I would highly recommend going to see it and I will definitely go back! Many thanks."
Reviewed on 24/10/2022
PBW Live in Dumbarton
"An amazing night, as always everything was perfect. Every time it just gets better my 9 and 5 year old son absolutely love it. Can't wait for the next one. Thank you"
Reviewed on 02/07/2023