Back to All events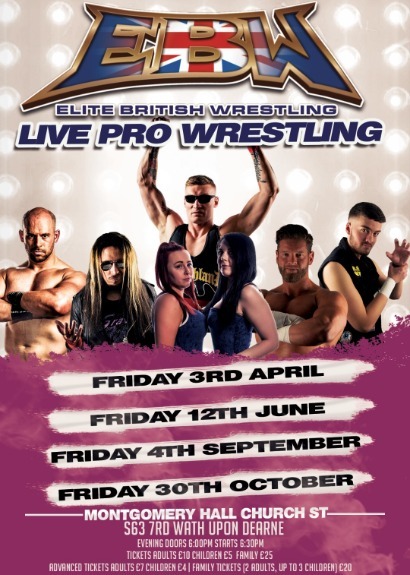 Event
EBW Presents Halloween Is Foe Heroes 2020
When / Where
30th October 2020
Doors open: 6:00pm
Montgomery Hall, Church Street, Wath upon Dearne, Rotherham, S63 7RD
Promoter reviews
Elite British Wrestling Presents Welcome To The Revolution
"Second year in a row that I've been to the Elite Wrestling show and what can I say, well, it's certainly not a let down night out! It's an amazing night out, the wrestlers are fantastic, always put on a good show. Interaction with the crowd is just brilliant, the atmosphere, the crowd and the music it is a full on fantastic packed night! Will definitely be going again!! "
Reviewed on 30/10/2016
EBW Presents Apocalypse Now 2019
"I love EBW events. They are so well prepared and fun for all the family. Thoroughly recommend this great wrestling group in Sheffield. They put on a great show."
Reviewed on 11/02/2019
EBW Presents Halloween Is For Heroes 2019
"
It was really entertaining, great value for money , great venue. The kids absolutely loved it the wrestlers were great getting the kids involved when they made their entrance etc. Even the merchandise was great value, but would have liked a bigger selection. Will definitely be bringing the family back and friends.
"
Reviewed on 13/10/2019
Elite British Wrestling Presents Summertime Smash
"Great day out, watched both shows. Few teething problems, mainly sound system but for a first time at a new venue went down well in general."
Reviewed on 24/07/2017
EBW Presents Apocalypse Now 2020
"
What a great night!! Great atmosphere and great entertainment. Would recommend to anyone!!
"
Reviewed on 09/02/2020
Elite British Wrestling Presents Showdown In Chapeltown 2015
"Another great show in the ring!! Fans were really into it, made the show even better. Some people were complaining there was no bar but drinks were available from merch stand. Great value for money"
Reviewed on 25/10/2015