Back to All events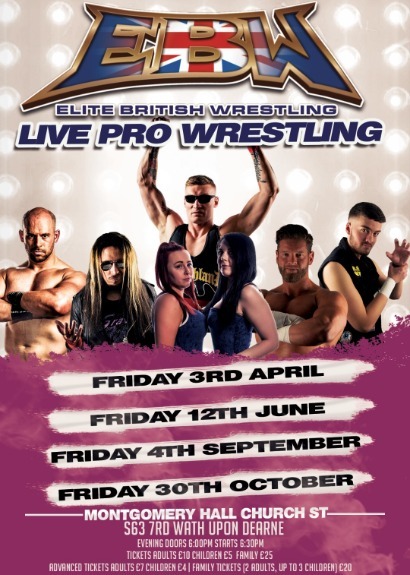 Event
EBW Presents Halloween Is Foe Heroes 2020
When / Where
30th October 2020
Doors open: 6:00pm
Montgomery Hall, Church Street, Wath upon Dearne, Rotherham, S63 7RD
Promoter reviews
EBW Presents Wrath Upon Dearne 2019
"It was our first time, our son loves wrestling so we brought him for his 9th birthday. We had an amazing night, very entertaining. We will definitely return to future shows."
Reviewed on 09/06/2019
EBW Live in Woodseats
"EBW Live In Woodseats was a great show Ivy was a great heel in that she refused to defend her title and had Ruby Radley wrestle in her place while she was the special guest referee. The Battle Royal was a decent affair and I was shocked at Mad Dog winning and facing Krieg for the world title in the main event. I can't remember his name but the wrestler with the Cowboy gimmick was entertaining and he got really mad when I got a "You're not a real cowboy" chant started and want to see him booked more regularly for EBW. Overall, a great show and the only fault I have is Mikey Van Riot's losing streak and hope he gets a win soon."
Reviewed on 28/08/2018
Elite British Wrestling Presents Summertime Smash
"Great day out, watched both shows. Few teething problems, mainly sound system but for a first time at a new venue went down well in general."
Reviewed on 24/07/2017
Elite British Wrestling Presents Summertime Smash
"2 absolutely amazing shows great wrestlers very friendly polite staff great choice of merchandise 5 star performance all round "
Reviewed on 25/07/2017
Elite British Wrestling Presents Wrath Upon Dearne 3
"when we attened everyone was so nice and polite the staff on thebar were very friendly and helpful... The matches were excitingand fun to watch... The wrestlers were very good with the children and gave the audience what they wanted.. "
Reviewed on 31/08/2015
EBW Present April Anarchy Weekender 2019
"
The show is fantastic for the whole family to attend, my 12 year old daughter absolutly loves all the wrestlers, I think you promote female wrestlers very well and as a parent of a pre teen showing girls can do anything boys can is a vital life lesson. Showing gender equality in sport is part of raising a strong female. See you all next time Tracey
"
Reviewed on 08/04/2019