Back to All events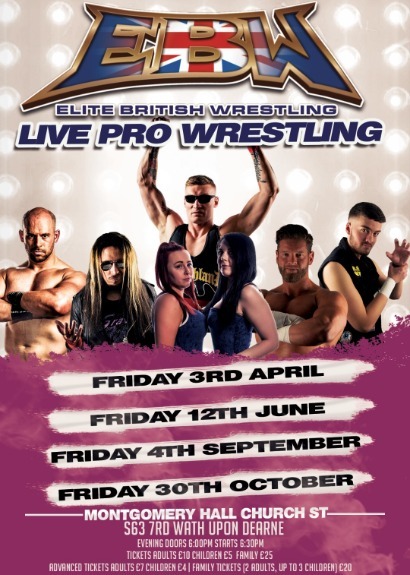 Event
EBW Presents Halloween Is Foe Heroes 2020
When / Where
30th October 2020
Doors open: 6:00pm
Montgomery Hall, Church Street, Wath upon Dearne, Rotherham, S63 7RD
Promoter reviews
EBW Presents Halloween is for Heroes
"Another fantastic night, kids absolutely loved it as always. We have really enjoyed every time we have been. The only negative for us was the layout of the venue. We find it better when the seating is around the ring as at previous venues. Saying that, this will not stop us coming again."
Reviewed on 28/10/2018
Elite British Wrestling Live In Wath Upon Dearne
"Brilliant night !!! Thanks all "
Reviewed on 14/02/2016
Elite British Wrestling Presents Summertime Smash
"2 absolutely amazing shows great wrestlers very friendly polite staff great choice of merchandise 5 star performance all round "
Reviewed on 25/07/2017
Elite British Wrestling Presents Wrath Upon Dearne 3
"A good show, all the wrestlers worked hard. The interaction with the fans was great. Massive thumbs up to Stixx for going over and chatting to a disabled guy who couldn't get in the ring for a photo. Could have done with some more merchandise for specific wrestlers. I had a good night, a bargain for the price of admission."
Reviewed on 30/08/2015
EBW Presents Unlucky For Some
"Really enjoyed the evening good night.some of the more popular people did get more ring time than others so maybe to help the new ones give them some more time to help them show more of what they can do "
Reviewed on 15/04/2018
EBW Presents The Risen Kingdom
"EBW wrestling is excellent. A great group of wrestlers and a very watchable, enjoyable show. The matinee and main shows last about 5 hours and has around 15 matches all for £7 if tickets are pre booked (£10 on the door). Excellent value and a great way to spend a Saturday afternoon, - a single football match costs a lot more and only lasts a couple of hours. "
Reviewed on 12/02/2018