Back to All events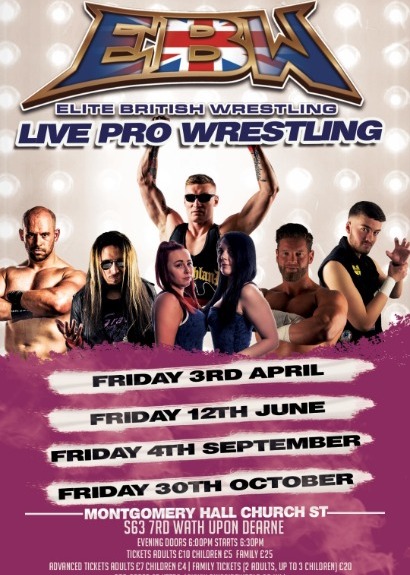 Event
EBW Presents Wrath Upon Dearne 2020
When / Where
4th September 2020
Doors open: 6:00pm
Montgomery Hall, Church Street, Wath upon Dearne, Rotherham, S63 7RD
Promoter reviews
Elite British Wrestling Presents Wrath Upon Dearne 3
"I never really knew much about wrestling but my other half is really into it so I got us tickets for a show. They are reasonably priced making it possible for entire families to get together which I feel is incredibly important. Unfortunatley my mister couldn't come on the night so a friend agreed for her quiet 5 year old son to chaperone me. I was nervous about going but found the venue perfect for the event(Montgomery hall, Wath). The performers were wonderful and the action turned the quiet 5year old into a bouncing, chanting, ball of energy. He found it truly exciting and it was a great introduction for me into this world. The Steam punk performers were my favourites but the others were impressive too. I can't wait for my next show. Thank you."
Reviewed on 11/09/2015
Elite British Wrestling Presents The Fight Awakens
"I can't recommend Elite British Wrestling enough. They always put on thoroughly entertaining and affordable family show, and it is heartening to see so many parents coming with their children, all joining in with the heckling and cheering. This night we were even treated to a light sabre battle in the dark. Please give them a go. A great night out. Andrew Wooding "
Reviewed on 02/02/2016
EBW Presents Wrath Upon Dearne 2019
"It was our first time, our son loves wrestling so we brought him for his 9th birthday. We had an amazing night, very entertaining. We will definitely return to future shows."
Reviewed on 09/06/2019
Elite British Wrestling Presents Wrath Upon Dearne 3
"when we attened everyone was so nice and polite the staff on thebar were very friendly and helpful... The matches were excitingand fun to watch... The wrestlers were very good with the children and gave the audience what they wanted.. "
Reviewed on 31/08/2015
Elite British Wrestling Presents Winter Wars 2015
"This was the first time we had attended an EBW event. It was recommended to us knowing our son Dominic loves wrestling. We had the most amazing night, the atmosphere was electric. And to see the smile and excitement on our sons face was the best feeling ever. Will defiantly be coming again in January. Thanks for a great night. Katy Darren & Dominic "
Reviewed on 30/11/2015
Elite British Wrestling Presents Smack To The Future
"Great show as always from EBW. Good mix of matches and great value tickets The kids loved it and appreciated the wrestlers all chatting to them"
Reviewed on 19/10/2015