Back to All events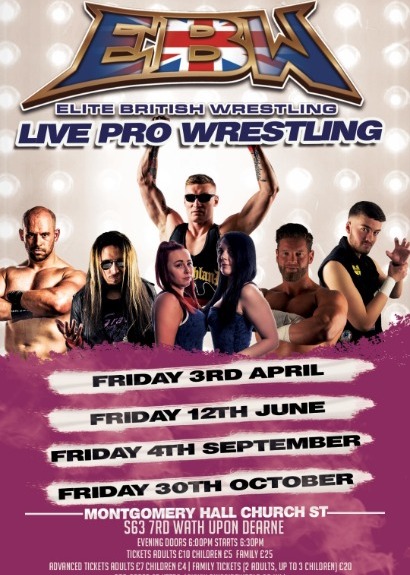 Event
EBW Presents Wrath Upon Dearne 2020
When / Where
4th September 2020
Doors open: 6:00pm
Montgomery Hall, Church Street, Wath upon Dearne, Rotherham, S63 7RD
Promoter reviews
EBW Presents Not All Superheroes Wear Capes, Some Wear Lycra...
"I loved it . My first wrestling match watching a family."
Reviewed on 12/05/2019
Elite British Wrestling Presents Wrath Upon Dearne 3
"when we attened everyone was so nice and polite the staff on thebar were very friendly and helpful... The matches were excitingand fun to watch... The wrestlers were very good with the children and gave the audience what they wanted.. "
Reviewed on 31/08/2015
EBW Presents Apocalypse Now 2020
"
Very good event. Gentlemen Jim needs more ring time! Very well played heel that can pull nuclear levels of heat with relative ease.
"
Reviewed on 12/02/2020
EBW Presents Halloween Is For Heroes 2019
"
What a night!! Absolutely brilliant atmospherernWonderful entertainment. I would recommend anyone go,they will be hooked. Took my son and mother and dad. We will all be going again!
"
Reviewed on 13/10/2019
Elite British Wrestling Presents The Fight Awakens
"I can't recommend Elite British Wrestling enough. They always put on thoroughly entertaining and affordable family show, and it is heartening to see so many parents coming with their children, all joining in with the heckling and cheering. This night we were even treated to a light sabre battle in the dark. Please give them a go. A great night out. Andrew Wooding "
Reviewed on 02/02/2016
EBW Presents Brawl In The Hall
"
Was a brilliant, light hearted evening. All the wrestlers were brilliant and welcoming to the children, which was lovely to see all the smiles and enjoyment had by all. Well done, great evening
"
Reviewed on 03/03/2019