Back to All events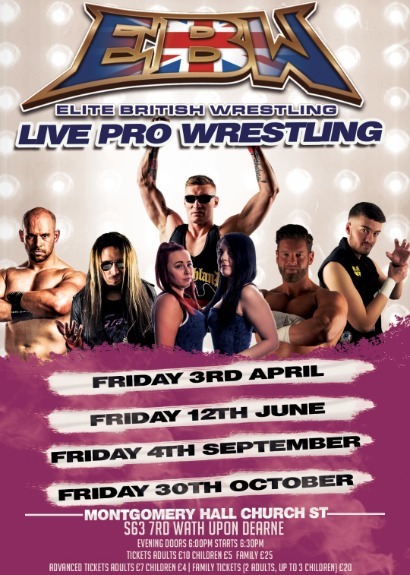 Event
EBW Presents Montgomery Brawl 2020
When / Where
12th June 2020
Doors open: 6:00pm
Montgomery Hall, Church Street, Wath upon Dearne, Rotherham, S63 7RD
Promoter reviews
EBW Presents Halloween Is For Heroes 2019
"
What a night!! Absolutely brilliant atmospherernWonderful entertainment. I would recommend anyone go,they will be hooked. Took my son and mother and dad. We will all be going again!
"
Reviewed on 13/10/2019
Elite British Wrestling Presents Wrath Upon Dearne 3
"A good show, all the wrestlers worked hard. The interaction with the fans was great. Massive thumbs up to Stixx for going over and chatting to a disabled guy who couldn't get in the ring for a photo. Could have done with some more merchandise for specific wrestlers. I had a good night, a bargain for the price of admission."
Reviewed on 30/08/2015
EBW Presents Unlucky For Some
"We had a fab family time, great atmosphere, very entertaining and well done "
Reviewed on 15/04/2018
Elite British Wrestling Presents Apocalypse Now?
"There were lots of shocks and surprises and it was awesome! Wrestlers I didn't think would be there; matches I didn't think I would see. Real professionalism. Matches better than you'd see on WWE. From Craig Ogden (Wrestling superfan)"
Reviewed on 14/06/2017
Elite British Wrestling Presents Summertime Smash
"Great day out, watched both shows. Few teething problems, mainly sound system but for a first time at a new venue went down well in general."
Reviewed on 24/07/2017
EBW Presents Apocalypse Now 2020
"
What a great night!! Great atmosphere and great entertainment. Would recommend to anyone!!
"
Reviewed on 09/02/2020