Back to All events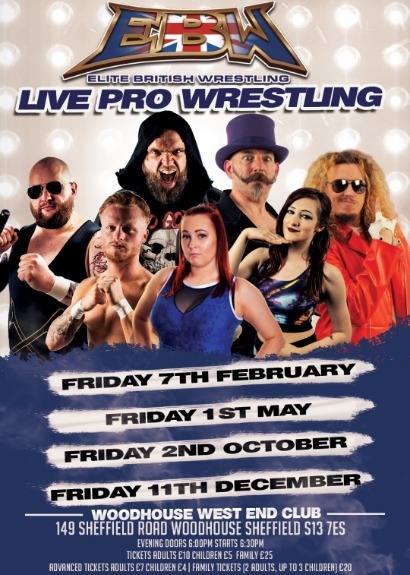 Event
EBW Presents Winter Wars 2020
When / Where
11th December 2020
Doors open: 6:00pm
Woodhouse West End WMC, 149 Sheffield Road, Sheffield, S13 7ES
Promoter reviews
Elite British Wrestling Presents Apocalypse Now?
"There were lots of shocks and surprises and it was awesome! Wrestlers I didn't think would be there; matches I didn't think I would see. Real professionalism. Matches better than you'd see on WWE. From Craig Ogden (Wrestling superfan)"
Reviewed on 14/06/2017
EBW Presents Halloween Is For Heroes 2019
"
It was really entertaining, great value for money , great venue. The kids absolutely loved it the wrestlers were great getting the kids involved when they made their entrance etc. Even the merchandise was great value, but would have liked a bigger selection. Will definitely be bringing the family back and friends.
"
Reviewed on 13/10/2019
EBW Presents Halloween is for Heroes
"Brilliant night!! Whole family enjoyed it!!"
Reviewed on 29/10/2018
Elite British Wrestling Presents Winter Wars 2015
"This was the first time we had attended an EBW event. It was recommended to us knowing our son Dominic loves wrestling. We had the most amazing night, the atmosphere was electric. And to see the smile and excitement on our sons face was the best feeling ever. Will defiantly be coming again in January. Thanks for a great night. Katy Darren & Dominic "
Reviewed on 30/11/2015
Elite British Wrestling Presents Welcome To The Revolution
"Fantastic!! Loved every minute. My daughters only stopped laughing when they were hiding their faces because they couldn't watch then being beaten up!! Will definitely go again, the girls want to sit on the front row next time so they get a high five!! "
Reviewed on 31/10/2016
Elite British Wrestling Presents Showdown In Chapeltown 2015
"Another great show in the ring!! Fans were really into it, made the show even better. Some people were complaining there was no bar but drinks were available from merch stand. Great value for money"
Reviewed on 25/10/2015