Back to All events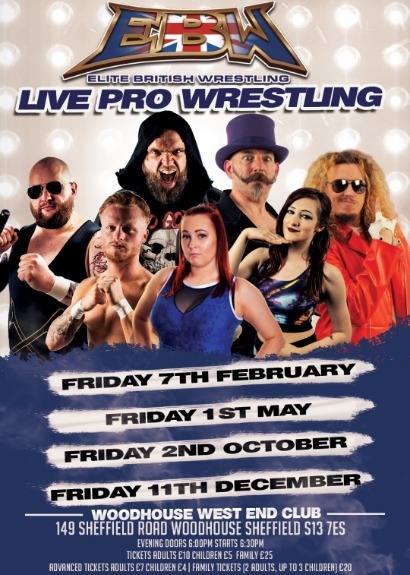 Event
EBW Presents Winter Wars 2020
When / Where
11th December 2020
Doors open: 6:00pm
Woodhouse West End WMC, 149 Sheffield Road, Sheffield, S13 7ES
Promoter reviews
EBW Presents Brawl In The Hall
"
Was a brilliant, light hearted evening. All the wrestlers were brilliant and welcoming to the children, which was lovely to see all the smiles and enjoyment had by all. Well done, great evening
"
Reviewed on 03/03/2019
EBW Presents Apocalypse Now 2020
"absolutely fabulous show!! what a great night out for the whole family rnthank you to everyone involved"
Reviewed on 12/02/2020
EBW Presents The Eve Of War
"I really enjoyable night with a great mix of bouts i would give it 5 stars thank you"
Reviewed on 09/12/2019
EBW Presents Unlucky For Some
"Really enjoyed the evening good night.some of the more popular people did get more ring time than others so maybe to help the new ones give them some more time to help them show more of what they can do "
Reviewed on 15/04/2018
Elite British Wrestling Presents Showdown In Chapeltown 2015
"Another great show in the ring!! Fans were really into it, made the show even better. Some people were complaining there was no bar but drinks were available from merch stand. Great value for money"
Reviewed on 25/10/2015
EBW Presents Apocalypse Now 2020
"
Very good event. Gentlemen Jim needs more ring time! Very well played heel that can pull nuclear levels of heat with relative ease.
"
Reviewed on 12/02/2020