Back to All events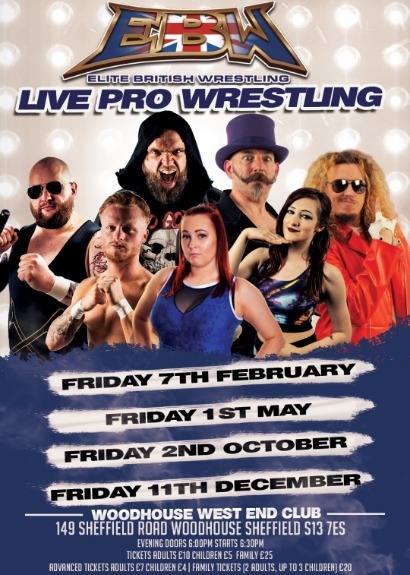 Event
EBW Presents Winter Wars 2020
When / Where
11th December 2020
Doors open: 6:00pm
Woodhouse West End WMC, 149 Sheffield Road, Sheffield, S13 7ES
Promoter reviews
Elite British Wrestling Presents Wrath Upon Dearne 3
"A good show, all the wrestlers worked hard. The interaction with the fans was great. Massive thumbs up to Stixx for going over and chatting to a disabled guy who couldn't get in the ring for a photo. Could have done with some more merchandise for specific wrestlers. I had a good night, a bargain for the price of admission."
Reviewed on 30/08/2015
Elite British Wrestling Presents Halloween is for Heroes
"Very good entertainment and good time "
Reviewed on 20/10/2017
EBW Presents The Risen Kingdom
"EBW wrestling is excellent. A great group of wrestlers and a very watchable, enjoyable show. The matinee and main shows last about 5 hours and has around 15 matches all for £7 if tickets are pre booked (£10 on the door). Excellent value and a great way to spend a Saturday afternoon, - a single football match costs a lot more and only lasts a couple of hours. "
Reviewed on 12/02/2018
Elite British Wrestling Presents Wrath Upon Dearne 3
"when we attened everyone was so nice and polite the staff on thebar were very friendly and helpful... The matches were excitingand fun to watch... The wrestlers were very good with the children and gave the audience what they wanted.. "
Reviewed on 31/08/2015
Elite British Wrestling Presents Apocalypse Now?
"As huge fans of wwe we weren't expecting anything close. But we were wrong. We attended the matinee and evening show and had a blast. The talent was brilliant and the whole show was very well put together and loved the funny bits. Can't wait for next one"
Reviewed on 12/06/2017
EBW Presents Halloween is for Heroes
"Another fantastic night, kids absolutely loved it as always. We have really enjoyed every time we have been. The only negative for us was the layout of the venue. We find it better when the seating is around the ring as at previous venues. Saying that, this will not stop us coming again."
Reviewed on 28/10/2018