Back to All events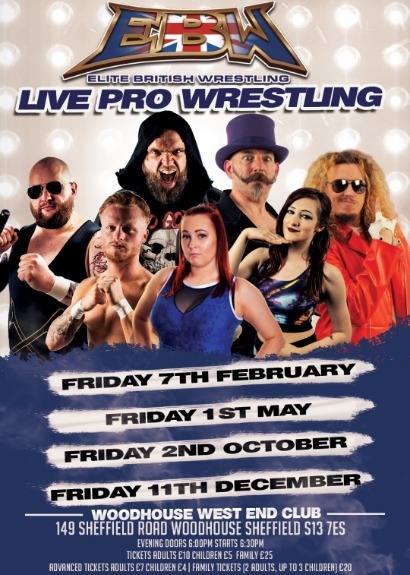 Event
EBW Presents Winter Wars 2020
When / Where
11th December 2020
Doors open: 6:00pm
Woodhouse West End WMC, 149 Sheffield Road, Sheffield, S13 7ES
Promoter reviews
Elite British Wrestling Presents New Day, New Dawn
"It was obvious that so much work had been put into preparing this. An excellent evening, with lots of laughs and lots of great wrestling."
Reviewed on 13/02/2017
EBW Presents Apocalypse Now 2019
"I love EBW events. They are so well prepared and fun for all the family. Thoroughly recommend this great wrestling group in Sheffield. They put on a great show."
Reviewed on 11/02/2019
Elite British Wrestling Presents Apocalypse Now?
"There were lots of shocks and surprises and it was awesome! Wrestlers I didn't think would be there; matches I didn't think I would see. Real professionalism. Matches better than you'd see on WWE. From Craig Ogden (Wrestling superfan)"
Reviewed on 14/06/2017
EBW Presents Brawl In The Hall 2018
"Really good night enjoyed it will be coming again in November "
Reviewed on 02/09/2018
EBW Presents The Risen Kingdom
"EBW wrestling is excellent. A great group of wrestlers and a very watchable, enjoyable show. The matinee and main shows last about 5 hours and has around 15 matches all for £7 if tickets are pre booked (£10 on the door). Excellent value and a great way to spend a Saturday afternoon, - a single football match costs a lot more and only lasts a couple of hours. "
Reviewed on 12/02/2018
Elite British Wrestling Presents Winter Wars 2015
"This was the first time we had attended an EBW event. It was recommended to us knowing our son Dominic loves wrestling. We had the most amazing night, the atmosphere was electric. And to see the smile and excitement on our sons face was the best feeling ever. Will defiantly be coming again in January. Thanks for a great night. Katy Darren & Dominic "
Reviewed on 30/11/2015