Back to All events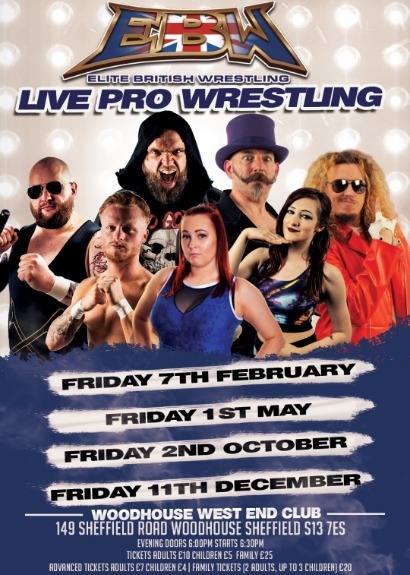 Event
EBW Presents Winter Wars 2020
When / Where
11th December 2020
Doors open: 6:00pm
Woodhouse West End WMC, 149 Sheffield Road, Sheffield, S13 7ES
Promoter reviews
EBW Presents Wrath Upon Dearne 2019
"It was our first time, our son loves wrestling so we brought him for his 9th birthday. We had an amazing night, very entertaining. We will definitely return to future shows."
Reviewed on 09/06/2019
EBW Presents Apocalypse Now 2020
"
Very good event. Gentlemen Jim needs more ring time! Very well played heel that can pull nuclear levels of heat with relative ease.
"
Reviewed on 12/02/2020
EBW Presents The Eve Of War
"I really enjoyable night with a great mix of bouts i would give it 5 stars thank you"
Reviewed on 09/12/2019
Elite British Wrestling Presents Apocalypse Now?
"As huge fans of wwe we weren't expecting anything close. But we were wrong. We attended the matinee and evening show and had a blast. The talent was brilliant and the whole show was very well put together and loved the funny bits. Can't wait for next one"
Reviewed on 12/06/2017
EBW Presents Unlucky For Some
"We had a fab family time, great atmosphere, very entertaining and well done "
Reviewed on 15/04/2018
Elite British Wrestling Presents Summertime Smash
"Hi There Me and my son have only been attending your events for for the last few months, and thoroughly enjoy every single one of them. Both the wrestlers and organisers are a credit to your company. Keep up the good work. "
Reviewed on 08/08/2016