Back to All events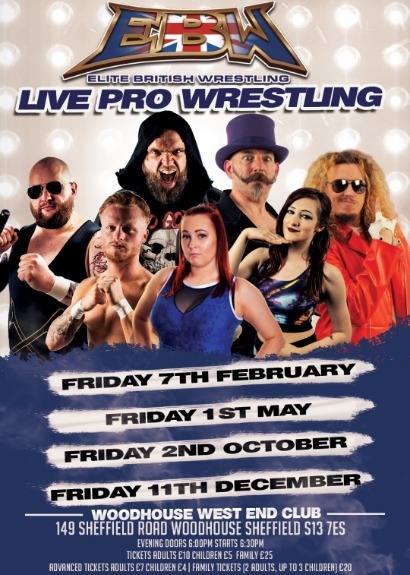 Event
EBW Presents Winter Wars 2020
When / Where
11th December 2020
Doors open: 6:00pm
Woodhouse West End WMC, 149 Sheffield Road, Sheffield, S13 7ES
Promoter reviews
EBW Presents Halloween is for Heroes
"Another fantastic night, kids absolutely loved it as always. We have really enjoyed every time we have been. The only negative for us was the layout of the venue. We find it better when the seating is around the ring as at previous venues. Saying that, this will not stop us coming again."
Reviewed on 28/10/2018
EBW Presents Wrath Upon Dearne 2019
"It was our first time, our son loves wrestling so we brought him for his 9th birthday. We had an amazing night, very entertaining. We will definitely return to future shows."
Reviewed on 09/06/2019
EBW Presents Unlucky For Some
"We had a fab family time, great atmosphere, very entertaining and well done "
Reviewed on 15/04/2018
EBW Presents Halloween Is For Heroes 2019
"
What a night!! Absolutely brilliant atmospherernWonderful entertainment. I would recommend anyone go,they will be hooked. Took my son and mother and dad. We will all be going again!
"
Reviewed on 13/10/2019
EBW Presents The Risen Kingdom
"EBW wrestling is excellent. A great group of wrestlers and a very watchable, enjoyable show. The matinee and main shows last about 5 hours and has around 15 matches all for £7 if tickets are pre booked (£10 on the door). Excellent value and a great way to spend a Saturday afternoon, - a single football match costs a lot more and only lasts a couple of hours. "
Reviewed on 12/02/2018
Elite British Wrestling Presents The Fight Awakens
"I can't recommend Elite British Wrestling enough. They always put on thoroughly entertaining and affordable family show, and it is heartening to see so many parents coming with their children, all joining in with the heckling and cheering. This night we were even treated to a light sabre battle in the dark. Please give them a go. A great night out. Andrew Wooding "
Reviewed on 02/02/2016