Back to All events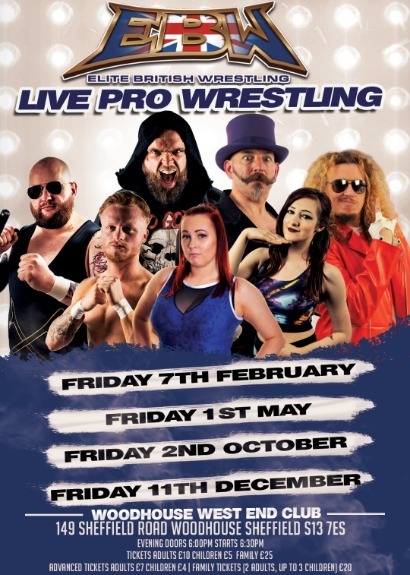 Event
EBW Presents Smack To The Future 2020
When / Where
2nd October 2020
Doors open: 6:00pm
Woodhouse West End WMC, 149 Sheffield Road, Sheffield, S13 7ES
Promoter reviews
EBW Presents Not All Superheroes Wear Capes, Some Wear Lycra...
"I loved it . My first wrestling match watching a family."
Reviewed on 12/05/2019
EBW Presents Halloween Is For Heroes 2019
"
It was really entertaining, great value for money , great venue. The kids absolutely loved it the wrestlers were great getting the kids involved when they made their entrance etc. Even the merchandise was great value, but would have liked a bigger selection. Will definitely be bringing the family back and friends.
"
Reviewed on 13/10/2019
Elite British Wrestling Live In Wath Upon Dearne
"Brilliant night !!! Thanks all "
Reviewed on 14/02/2016
Elite British Wrestling Presents Halloween is for Heroes
"Very good entertainment and good time "
Reviewed on 20/10/2017
Elite British Wrestling Presents Wrath Upon Dearne 3
"I never really knew much about wrestling but my other half is really into it so I got us tickets for a show. They are reasonably priced making it possible for entire families to get together which I feel is incredibly important. Unfortunatley my mister couldn't come on the night so a friend agreed for her quiet 5 year old son to chaperone me. I was nervous about going but found the venue perfect for the event(Montgomery hall, Wath). The performers were wonderful and the action turned the quiet 5year old into a bouncing, chanting, ball of energy. He found it truly exciting and it was a great introduction for me into this world. The Steam punk performers were my favourites but the others were impressive too. I can't wait for my next show. Thank you."
Reviewed on 11/09/2015
Elite British Wrestling Presents The Fight Awakens
"I can't recommend Elite British Wrestling enough. They always put on thoroughly entertaining and affordable family show, and it is heartening to see so many parents coming with their children, all joining in with the heckling and cheering. This night we were even treated to a light sabre battle in the dark. Please give them a go. A great night out. Andrew Wooding "
Reviewed on 02/02/2016