Event Description
FutureShock returns to it's birthplace to rock the Guildhall to it's foundations.
Join us as we kick off our year in Stockport style!
Door 4.15
First Bell 5pm
Matches Already Announced:
Tag Team Championship Match - Tornado Rules
Young Guns (c) vs Chris Egan & Danny Hope
Four-Way #1 Contenders Match for the Adrenaline Championship
Tom Thelwell vs Joe Nelson vs JJ Webb vs Scott Oberman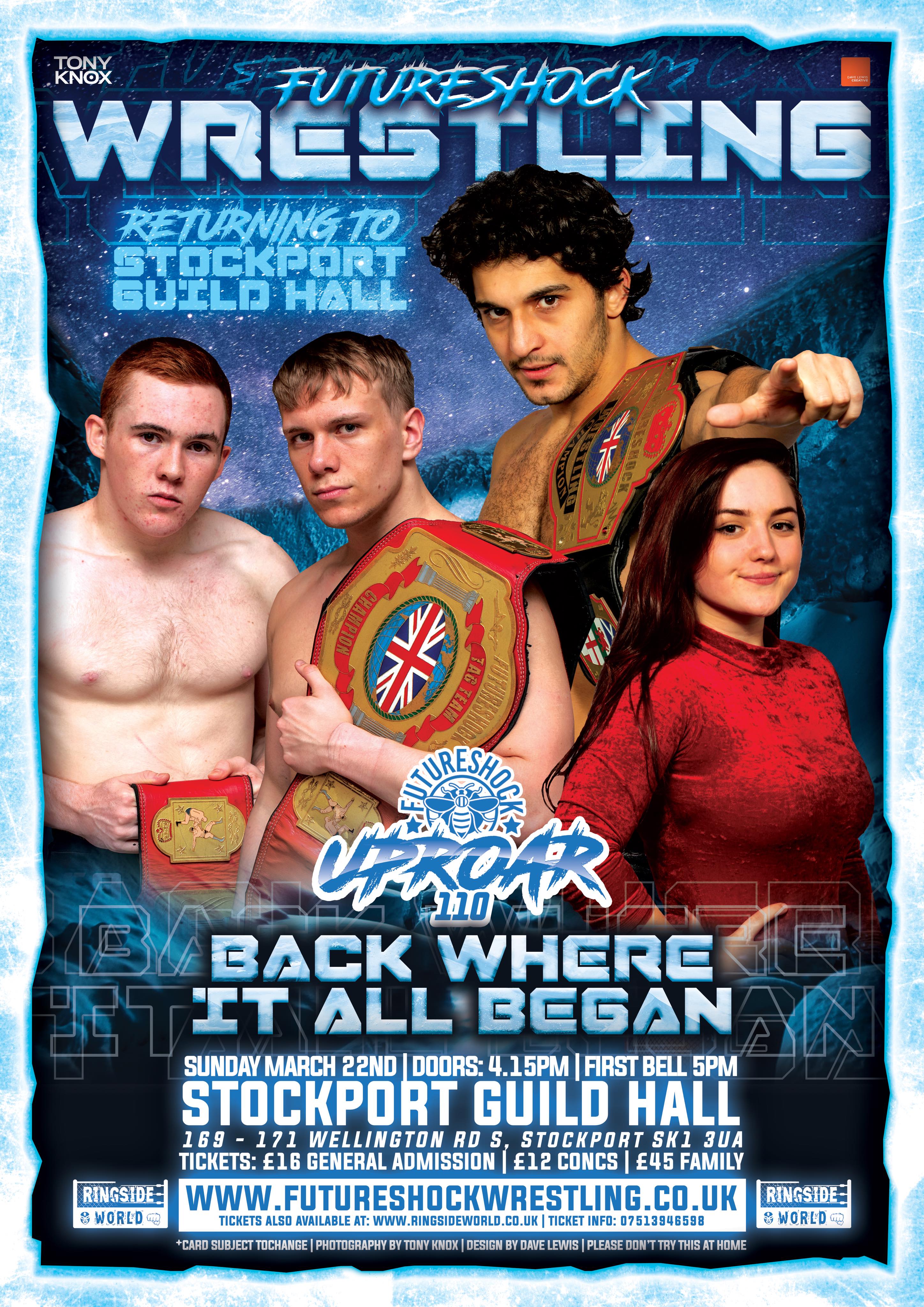 Please note the event line up is subject to change.
Featured Wrestlers
Promoter reviews
FutureShock Wrestling: Underground 34 - The 15th Anniversary.
"Fantastic shown as always. Great atmosphere, family friendly and excellent venue."
Reviewed on 21/08/2019
FutureShock Underground 31 - Prestwich, Manchester
"
Fantastic show from futureshock once again. Our first time at Longfield suite. Brooker out with the crowd pre show got us even more excited than we already were. Great to see some wrestlers we've never seen live before and great to see some top class returning talent like Riddy, Joey and CJ. We fell for Bailey's ruse hook line and sinker, well played. Main event was incredible.
"
Reviewed on 25/02/2019
FutureShock Wrestling: Underground 34 - The 15th Anniversary.
"
The entire show was fantastic, I've struggled to think of anything that could be better, the only things I could think of was it was sometimes a little hard to hear who ever was using the Microphone and it would have been nice to have a bit more room at the merch, but that's just being picky the organisation the show the talent the atmosphere were all spot on, all the staff and ring crew were helpful and friendly great evening, I'm gonna buy a ticket for September
"
Reviewed on 19/08/2019
FutureShock Tapped III: Tapped With A Vengeance - Manchester
"What an Awesome show I just wish the bar had coke"
Reviewed on 09/02/2019
FutureShock Underground 35 - Prestwich, Manchester
"This show featured an amazing tag team match that showed how such matches should have been performed."
Reviewed on 31/10/2019
FutureShock Tapped V: A Good Day To Tap Hard - Manchester
"The venue is always great at the tapped shows with the food being very good again and the variety of beers they do and the show was brilliant showing an array of young up and comers in British wrestling pitted against veterans of british wrestling gave this particular show a refreshing outlook."
Reviewed on 11/06/2019