Event Description
It's the biggest night of the year for Manchester's home grown professional wrestling company. For fifteen years we've brought the hard hitting, heart stopping, high flying action.
WWE Superstar Jack Gallagher returns to FutureShock for one night only to square off with his former friend Sam Bailey in a battle of FutureShock Originals. Will the Gentleman of 205 Live shut the CEO of Bailey Brand's mouth once and for all or will the obnoxious Bailey score his biggest win to date?

Every championship in the company will be on the line on a night that nobody will ever forget. Tickets go on sale 6pm Monday June 24th. Don't miss this. Join us!

For all the latest news make sure to follow us on Twitter, like our Facebook Page and check out our official Instagram.
Matches Already Announced:
Gentleman Jack Gallagher vs Sam Bailey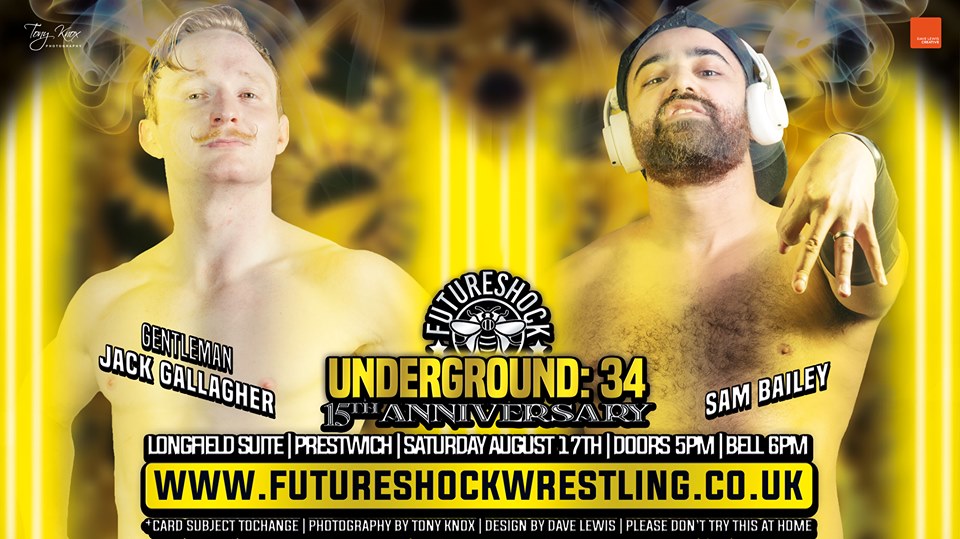 Please note the event line up is subject to change.
Featured Wrestlers
Promoter reviews
FutureShock Uproar 105 - Stockport Town Hall
"Great show all round"
Reviewed on 19/03/2019
FutureShock Tapped V: A Good Day To Tap Hard - Manchester
"The venue is always great at the tapped shows with the food being very good again and the variety of beers they do and the show was brilliant showing an array of young up and comers in British wrestling pitted against veterans of british wrestling gave this particular show a refreshing outlook."
Reviewed on 11/06/2019
FutureShock Tapped III: Tapped With A Vengeance - Manchester
"Great event all good just a tad cold"
Reviewed on 08/02/2019
FutureShock Underground 31 - Prestwich, Manchester
"We took our friends to the wrestling on Saturday and they have never been before. They loved it! A great night of non stop entertainment and looking forward to the next one."
Reviewed on 26/02/2019
FutureShock Tapped V: A Good Day To Tap Hard - Manchester
"The third Futureshock show I've been to and the best! The match quality was fantastic throughout and the main event was superb."
Reviewed on 11/06/2019
FutureShock Uproar 104 - Stockport
"First time going and with my whole family who came over for some holidays, to show them what wrestling was about as i have always been a fan and they absolutely loved it. You're gonna see me in every show now"
Reviewed on 22/01/2019