Event Description
After an epic start to our year in Prestwich capped off by an incredible main event it's time to make our way back to the Longfield Suite. This time around we're thrilled to welcome a man that was due to appear there in December but, because of injury, had to forfeit his place in the Legacy Tournament.

The Product David Starr is back and rest assured that he won't be happy to just make up the numbers. After having to withdraw from the 2018 Legacy Tournament due to an injury The Product had to stay at home and watch his scheduled opponent John McGregor go all the way to victory. John cashed in his championship match at Uproar 105 and is now the FutureShock Champion! Could things have been very different?

John McGregor defends his title against international sensation David Starr on 20th April.

Also schedule... Joey Hayes will defend the FutureShock Adrenaline Championship against no less a sensation than Sugar Dunkerton.

Tickets on sale now with very limited ringside seats remaining. Join us.
Matches Already Announced:
FutureShock Championship Match
John McGregor (c) v 'The Product' David Starr
FutureShock Adrenaline Championship Match
Joey Hayes (c) v Sugar Dunkerton
#1 Contenders - Adrenaline 4-Way
JJ Webb w/ Alexis Falcon vs Kev Lloyd vs Isaiah Quinn vs Callum Corrie
Luke Jacob & ??? vs Danny Hope & Chris Egan
Toanga & Alexis Falcon w/ JJ Webb vs Lana Austin & Hollie
Please note the event line up is subject to change.
Featured Wrestlers
Promoter reviews
FutureShock Uproar 105 - Stockport Town Hall
"Great show all round"
Reviewed on 19/03/2019
FutureShock Uproar 105 - Stockport Town Hall
"Excellent value for money, we loved it! Already booked to come back in may."
Reviewed on 19/03/2019
FutureShock Uproar 105 - Stockport Town Hall
"
This was my first visit to futureshock wrestling, I went with my 6 year old son and we both loved it. The atmosphere was great, the wrestling was amazing and the event was really well organised. I'll definitely come to see more events in future. The only downside was the lack of food available but I managed to go out to get something in the interval without missing any action. Thanks!
"
Reviewed on 19/03/2019
FutureShock Tapped III: Tapped With A Vengeance - Manchester
"What an Awesome show I just wish the bar had coke"
Reviewed on 09/02/2019
FutureShock Underground 31 - Prestwich, Manchester
"
Awesome show, a lot better than I expected if I'm honest! Staff were amazing and the venue was very good! Audience were into every match and the performers were great, especially ones I didn't know! Will be looking to go a event again!
"
Reviewed on 25/02/2019
FutureShock Uproar 105 - Stockport Town Hall
"Had a cracking time! will be re attending for sure!"
Reviewed on 20/03/2019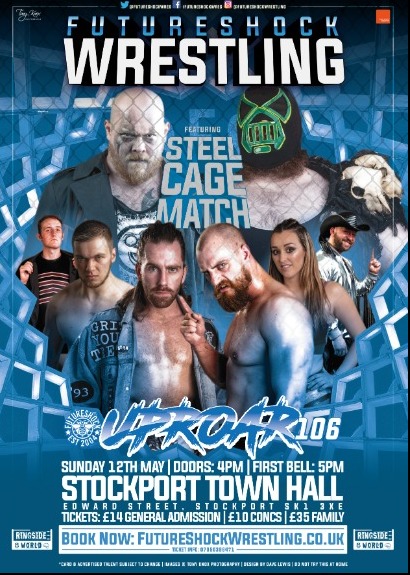 FutureShock Uproar 104 - DOUBLE STEEL CAGE MATCH main events at Stockport Town Hall
MORE INFO +
TICKETS